The Young Lion
Opera News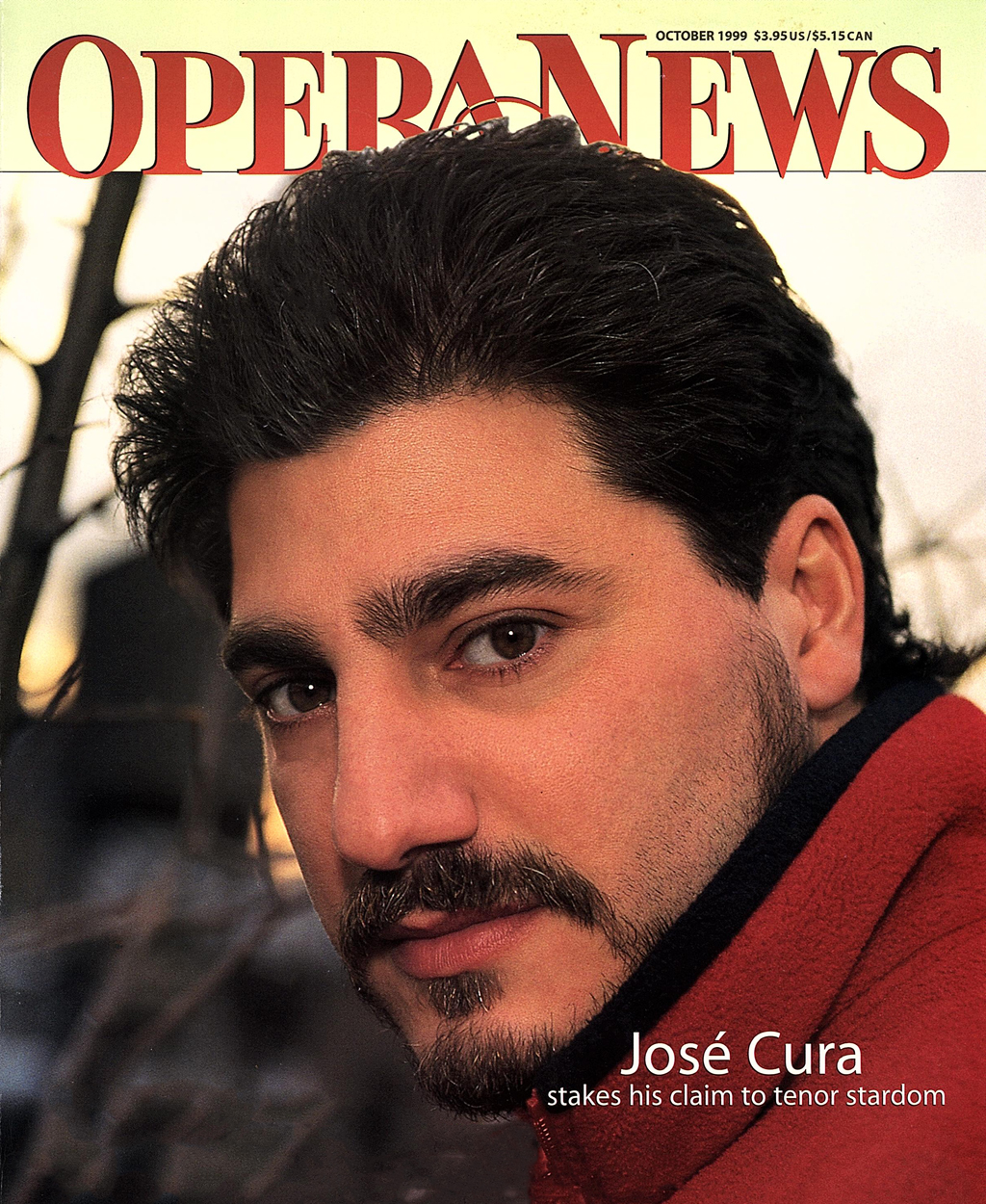 [Excerpts]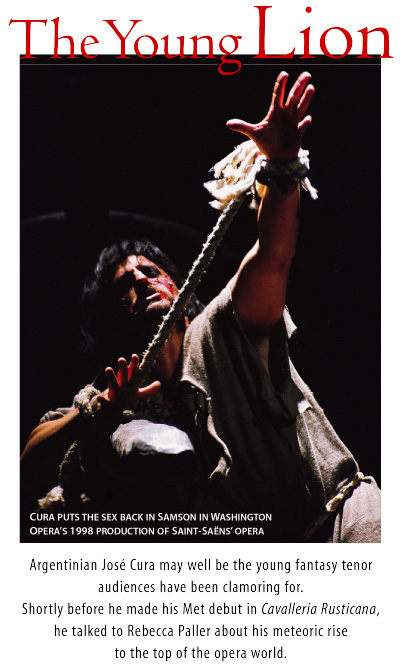 The first time I saw José Cura was last November, in Washington. A new production of Samson et Dalila at Washington Opera had begun with the chorus lying flat on the raked stage, then turning over in unison (like bacon self-turning in the frying pan), standing up and sitting down again. When they sat, there he was -- a towering vision in white, stunningly handsome, with a build like a Colossus, and exuding that quality so rare on the opera stage today -- charisma.
"Arrêtez, ô mes frères! Et bénissez le nom du Dieu saint de nos pères" (Cease, o my brethren! and bless the name of the Holy God of our fathers), he sang in a clarion voice that was powerful and exciting. His green [sic] eyes burned intensely, and when he compassionately put his hand on the shoulder of a Hebrew slave, I actually believed he could ease her suffering.
When the performance was over, the image that lingered during my train ride back to New York was of Cura as the blind Samson, grasping the young boy who was leading him through the crowd. I'm used to Samson holding the boy by the hand, but Cura clutched the child fiercely, clinging for dear life. The gesture was believable and brilliantly effective.
Before my Washington trip, I had been skeptical about the fast-rising tenor who was generating such juicy quotes as, "He comes as a 'whole package' -- exceptional voice, smoldering good looks and a captivating acting ability -- which a new generation of operagoers is clamoring for" (Antonia Couling in Opera Now). I, after all, had seen the great Samsons of Jon Vickers and Plácido Domingo; I was not about to be taken in by a Calvin Klein model, no matter how fine the packaging.
But José Cura is a genuine find: a serious musician with a burnished, baritonal sound. He is also an immensely charming yet shrewd man, with an obvious dedication to his art and an instinctive flair for drama -- especially as Samson, Don José, Andrea Chénier, Radamès, Des Grieux in Manon Lescaut and Turiddu in Cavalleria Rusticana. (Otello, which he first sang under Claudio Abbado in Turin in 1997, remains something of a work in progress.)
Turiddu is the vehicle for Cura's Metropolitan Opera debut, on September 27 -- the first half of a gala doubleheader opening night ending with Plácido Domingo in Pagliacci. The occasion combines the eagerly awaited introduction of New York audiences to the dramatic tenor whose voice and stage presence are a throwback to the days of Franco Corelli and Mario Del Monaco, with Domingo's eighteenth opening night at the Met, breaking the first-night record set by Enrico Caruso. The evening's two tenors have a special bond: in 1994, Cura was a winner of Domingo's International Operalia Competition, and Domingo has endorsed his younger colleague by conducting Cura's first solo recording -- the 1997 Puccini Arias -- and signing him on for both last season's Samson and this season's Otello at Washington Opera.
José Cura, the third Great Tenor Hope to make his Met debut in as many years, is the only one of the three likely to go into the record books as a successful debutant. (Roberto Alagna's nerves got the better of him in his 1996 debut in La Bohème; and Marcelo Álvarez's affably bland Alfredo got lost in the company's monster Zeffirelli production of La Traviata last year.) The fact that magazines and newspapers around the world, desperate for a successor to the triumvirate of Pavarotti, Domingo and Carreras, have anointed Cura "The Fourth Tenor" irks the singer. "If I am the fourth tenor, who is the third, the second or the first?" he demands. "It's a title that doesn't mean anything."
In this age of hype, titles do of course mean something to the general public, but hype is a double-edged sword: while the accolades encourage a sort of frenzied anticipation, they also foster the honing of critical knives. Cura, who could do no wrong a couple of years ago, is now in the crosshairs of certain writers (notably Rodney Milnes, whose scathing review of the tenor's Otello appeared in the London Times last May 19). It helps that he has the good fortune not to be afflicted with stage fright -- even when a dress rehearsal has been a major disaster, or an opening night is fraught with glitches. Case in point: the first night of Samson at Washington Opera, when the temple came crashing down three bars too soon. Cura kept singing as if everything were going according to plan.
"My instinctive reaction was not to run away from the stage but to try to save the production," says the tenor, pausing mid-bite over a bowl of risotto at Café des Artistes in New York during our interview. "I'm never scared onstage -- there's nothing that can surprise me. I don't know if it sounds arrogant, but I'm so well prepared. I've been onstage more than half my life."
The singer has no doubt read a story or two in which he's been described as "arrogant," but at our first interview he comes across as cordial, polite, thoughtful, intelligent and humorous. He's obviously used to being interrupted by fans and people in the business -- at one point a well-known artist manager stops by to chat, shouting "Cura!" as he approaches our table -- yet somehow the tenor manages to stay focused on whatever question he's been asked, easily picking up where he left off.
True, Cura has strong opinions about the direction he wants his career to take, but he doesn't exhibit a pompous or overbearing attitude. He simply knows who he is and how hard he worked to get to where he is today.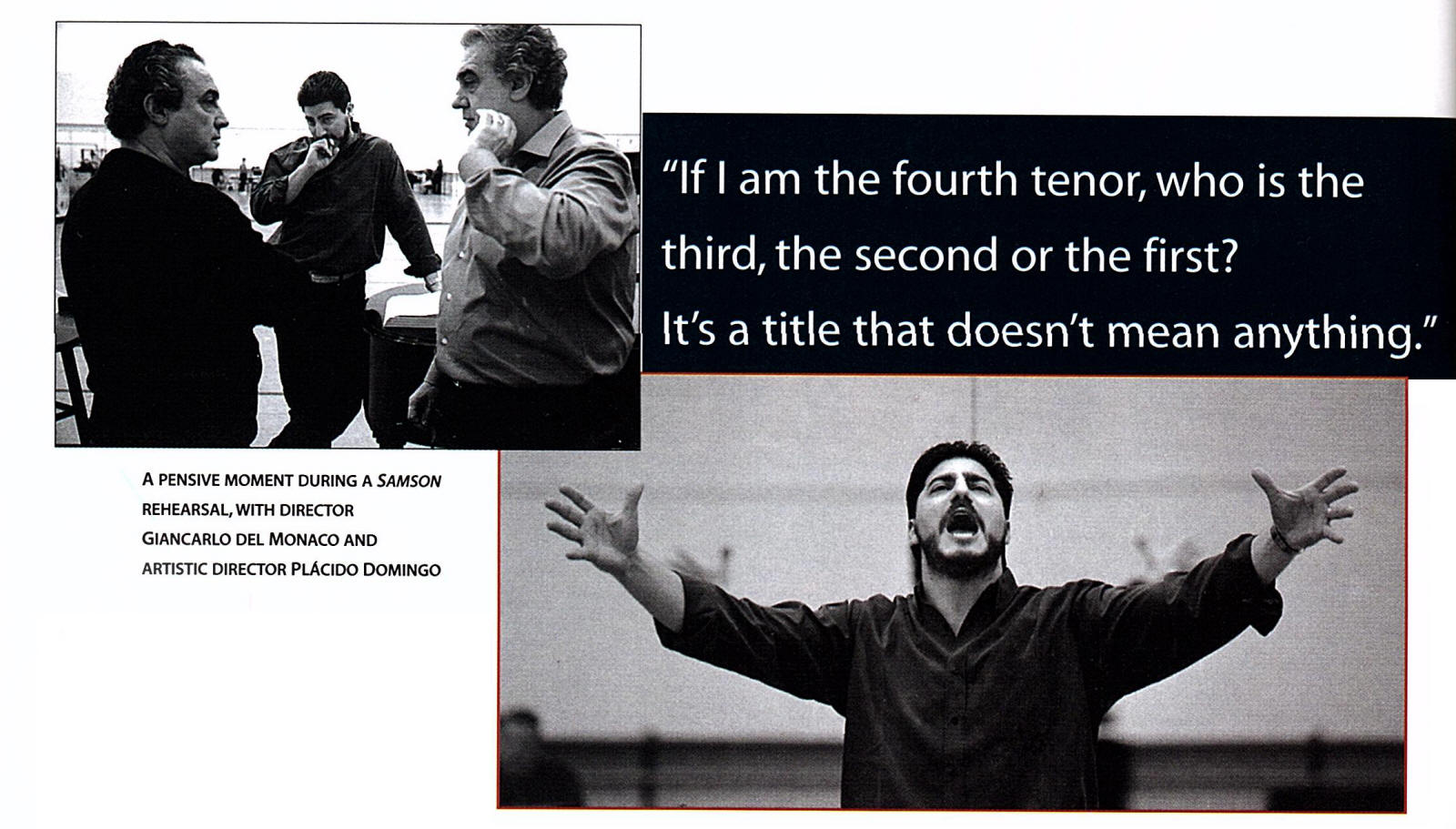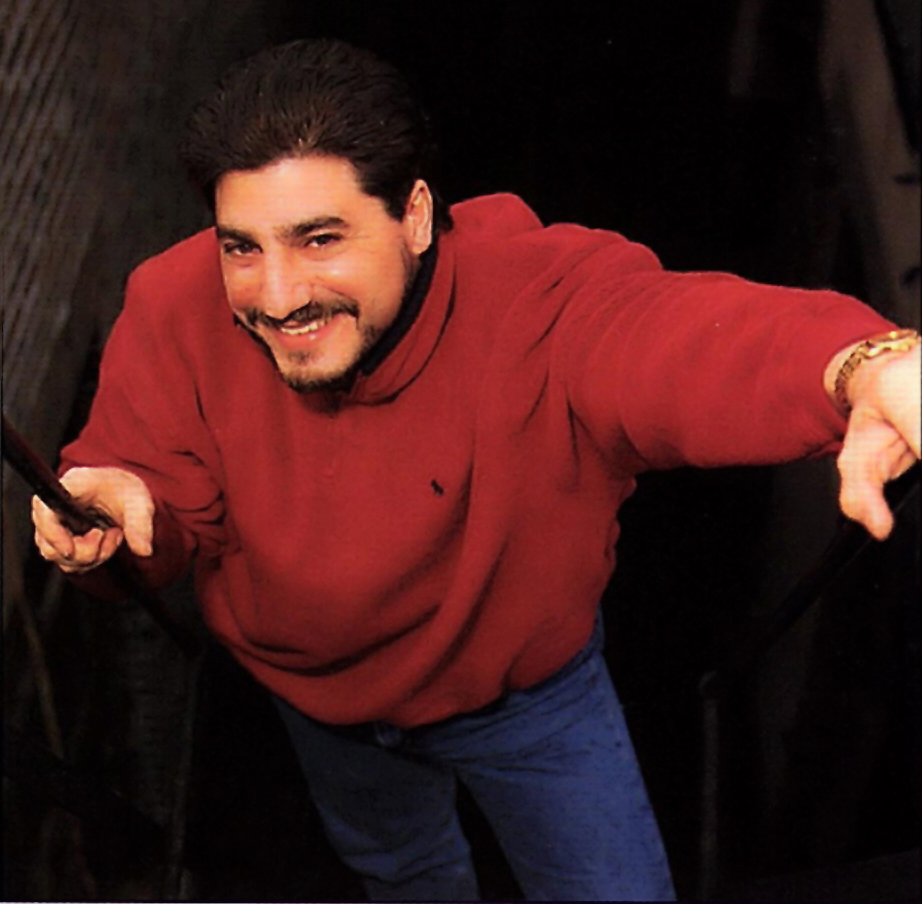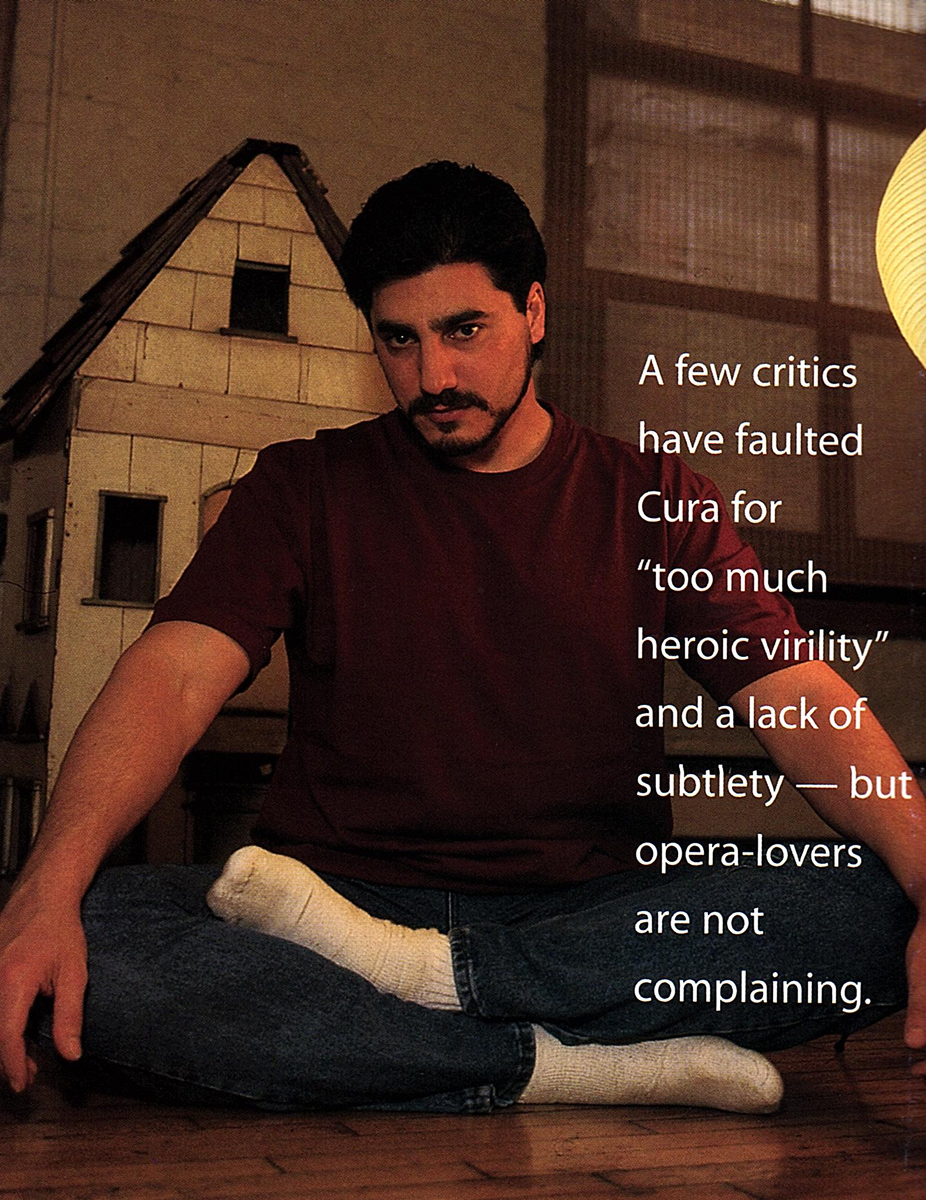 ---
Tenor of The Times
The Washington Post
Pierre Ruhe
November 11, 1998
The opera world -- which has long been searching for an heir to the overhyped Three Tenors -- may have found him in an Argentine composer and conductor who once worked as a body-building instructor.
"I'm a musician by vocation, a tenor by accident," insists Jose Cura, who begins a run this week as the hero of the Washington Opera's production of Camille Saint-Saens's "Samson et Dalila" opposite mezzo-soprano Denyce Graves.
Those who hear Cura during his run as Samson are unlikely to think there's been any accident. His voice is large, masculine and commanding, with an unforced, natural delivery. His top notes ring clear and true, like a trumpet. He is a throwback to the big tenors from the '50s and '60s, such as Franco Corelli or Mario del Monaco. (By coincidence, in the very small world of opera, del Monaco's son Giancarlo is directing this production of "Samson.") But unlike the sound of those bright-voiced Italians, Cura's wells up from a deeper registry, almost like a baritone.
Word that Cura is the great tenor hope has been circulating among music lovers for several years. Next year he'll make his auspicious debut at the Metropolitan Opera in New York: on opening night, in "Cavalleria Rusticana."
The usually understated British magazine Opera went nuts over his debut recording of Puccini arias, released on Erato a year ago, proclaiming the disc the "lavish confirmation that Cura is the answer to our prayers, a true spinto tenor leaning towards robusto that we have needed for so long." In other words, he's both lyrical and dramatic, and he's got power and stamina behind the voice. John Steane, perhaps the most respected vocal expert writing in English today, hears in Cura "a thrilling voice, an individual timbre." In the ever-popular romantic tenor repertoire, Cura, 35, is at the top of his generation.
On Friday morning last week, Cura greeted a visitor to his Watergate hotel suite dressed in a black track suit and thick white socks, sipping tea on the sofa. He was getting over a lingering cold, but in good spirits though still heavily congested. Yet by the next day's dress rehearsal he was too sick to sing. Graves also had complained of minor troubles (dry vocal cords) and opted not to overtax herself for this rehearsal. So both title characters "walked" through their parts, in costume, while their understudies (Ian DeNolfo and Catherine Keen) stood at stage right and did all the singing.
Cura's vocation as a musician is unusually broad. Born in Rosario, Sante Fe, Argentina, he was conducting a choir, playing classical guitar and composing music by the time he was 15. But a life of easy privilege -- his father owned a metals conglomerate -- was soon blocked.
"I've known every stage of social possibilities in my life, because I was born in a rich family," he says. "But when the military regime went into power we were one of the first to go into bankruptcy. Imagine for me, as a teenager, one day I was proud of being rich and the next day I was nothing, we had nothing. But my mother was born in poverty and she knew misery, she pulled us up. After that, education became very important, and we started again."
At 22, the year he married, he made his opera-conducting debut with "Carmen," and soon after had written several ambitious, large works: a children's opera, a Requiem, a Magnificat. Despite his success as a singer, he still considers himself a composer. He calls his music "post-romantic" in style and is working, when he finds the time, on an oratorio about Christ's last days. He started singing to make himself a better composer of vocal music and earn some extra money. Being a chorister in the Teatro Colon in Buenos Aires, South America's largest and most prestigious opera house, proved invaluable, if less than lucrative. "I had several jobs every day: I'd work in a gym as a body-building instructor in the morning, in the afternoon at a grocer's, in the evening in the chorus at the opera. It was a hell of a life."
That life lasted five years. All the while he was making amazing progress with his singing, taming what was then a large but raw and unfocused voice. When the decision was made to try opera, he moved to Italy so he could learn Italian opera from the natives. One breakcame in 1994, when he won Plácido Domingo's International Operalia vocal contest.
Domingo has clout in every place that Cura's career, indeed any young singer's, might develop. He's the leading dramatic tenor in the world today, plus he's the Washington Opera's artistic director (and he is assuming the same title with the Los Angeles Opera). He also conducted the London Philharmonia for Cura's debut recital disc and will conduct this production of "Samson."
Given Domingo's unique power and the cynicism of the opera world, gossip and speculation seemed inevitable. "One month after I won the contest in '94 I sang in Chicago and the general talk was that I was imposed by Plácido to sing Fedora -- when in fact I had signed the contract with an agent to sing there before I entered the contest. I can understand what people used to think. But it's stupid now to think I'm still a protege of Placido's. I have earned my place, my career, where it now stands.
"My relationship with Plácido is much less complicated than people think," Cura says. "Ten singers won the year I won. People used to say, Cura is where he is because he won the Operalia contest,' but I say, Where are all the other winners? I don't see them.' Some are doing wonderful careers, but no one is in my situation. My relationship with Plácido is just based on that -- I've won his contest, so he uses me and helps me wherever he can. Our relationship and friendship is based in that, and that is the point of the contest. But he has never given me vocal advice, he's never said a word to me about technique, and I respect him for that. Every singer has his own way of singing or finding a phrase, and too much advice from too many singers isn't a good thing."
Domingo, for his part, responds: "My protege? No. He deserves to be where he is by his own merits. He already has an incredibly varied repertoire. Another thing that sets him apart is that he is an excellent musician and a fine actor. And the voice itself is a true lirico-spinto.
"There is no doubt that his is the voice to be considered for the future."
If Domingo has named Cura his heir, perhaps it is because both are interested in more than singing. Cura's second solo recording, something of a crossover disc of Argentine songs, includes two of his own pieces. And he'll increasingly perform recitals with orchestra in which he conducts overtures and intermezzi in addition to singing arias. "I'm still just a composer and conductor who happens to sing," he maintains. He continues to keep his career options open with symphonic conducting and work with a chamber ensemble, playing piano and percussion.
But before he can focus on those other activities he has a run of "Samson" performances in Washington, and Cura is a thoughtful actor onstage. "Samson is about sex, and about man's relationship with something eternal. Is there someone up there, whatever you choose to call it? Are we all alone? In the scene in the third act, for example, where Samson pushes the treadmill -- he's not supposed to sing like a bird, he's been castrated and beaten, he's weak. It's an unreal moment, so I try to give the effect of a broken situation, by making a sob here or a cracked note there, in a theatrical way.
"It's one of the most dramatic moments in opera: It's Samson's soul talking with God. It shouldn't be loud but intense. My job is to get that across to the audience and I always find it most challenging to portray small parts of the human condition."
---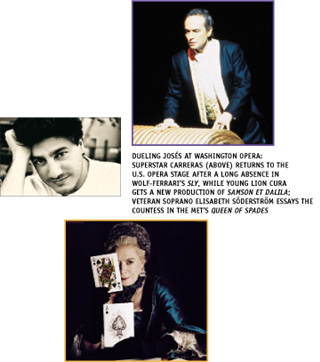 The José Cura Interview
Interview conducted in 1998 by Jane Austin for the ConneXion
[Excerpts]