1991

Moves to Europe (16 April)

1993

Sings first starring role: Jan in the opera Signorina Julia by Antonio Bibola at the Teatro Giuseppe Verdi in Trieste, Italy

Professional Debut

1994

Wins Operalia in Mexico City (Sept)

Award

1994

Makes American debut in Chicago as Loris Ipanoff in Fedora (Nov)

US Debut

1994

Performs Roberto in Le Villi at the Valle d'Itria Festival in Martina Franca, recorded live and available on CD (first commercial recording)

First CD

1994

Returns to Argentina for gala concert at Teatro Colón (Dec)

Event

1995

Makes English debut at the Royal Opera House, Covent Garden, in the title role of Stiffelio in the Verdi Festival (June)

Royal Opera Debut

1995

Debuts in Paris at the Paris Opéra Bastille in a new production of Nabucco (Ismaele)

Opéra Bastille Debut

1995

Debuts as Mario Cavaradossi in Tosca in the Puccini Festival in Torre del Lago

Role Debut

1995

Takes part in the Melbourne and Sydney show The Puccini Spectacular, which was specially devised for his Australian debut (televised)

Broadcast

1996

Debuts as Samson (signature role) in the Royal Opera House production of Camille Saint-Saëns' Samson et Dalila

Role Debut

1996

Debuts at the Wiener Staatsoper in Tosca

Staatsoper Debut

1996

Sings first Turiddu in the Ravenna Festival production of Cavalleria rusticana (televised and broadcast)

Broadcast

1996

Stars in a BBC documentary Great Composers in honor of Giacomo Puccini, accompanied by Leontina Vaduva and Julia Migenes (Dec)

Puccini Documentary

1997

Debuts at La Scala in Milan as Enzo Grimaldo in Ponchielli's La Gioconda (Jan)

La Scala Debut

1997

Takes on the title role in Verdi's Otello (signature role) in Turin, with the Berlin Philharmonic under Claudio Abbado and with Barbara Frittoli as Desdemona. La Nazione (Florence) ran the headline, 'José Cura: a new Otello is born!' Also becomes the youngest tenor to have his debut in role broadcast on television. (May)

Role Debut

1997

Wins Abbiati Award (the Italian critics' prize) for the category of 'Best male singer' for his performances in two Mascagni operas - Iris in Rome and Cavalleria Rusticana in Ravenna - and in Verdi's Il Corsaro in Turin (June)

Award

1997

Releases first recital CD, Puccini Arias

First Solo CD

1998

Debuts as Radames in the Franco Zefferelli production of Aida during the inaugural season of the New Imperial Theatre (Tokyo); marks the first time an opera production was fully built in Japan

Role Debut

1998

Sings Des Grieux in Puccini's Manon Lescaut at La Scala (released on CD and DVD)

Role Debut/ CD/DVD

1998

Debuts at the Washington Opera (now National Opera) in Samson et Dalila

Theater Debut

1998

Opens the newly refurbished Teatro Massimo in Palermo in Aida

Event

1998

Records Samson et Dalila under baton of Sir Colin Davis

CD

1998

Wins Orphée d'Or from Académie du Disque Lyrique (France) for his recording of Samson et Dalila

Award

1998

Releases Anhelo, second recital CD, full of music from his homeland; first album conducted by Cura; first album to include composition by Cura

CD

1999

Stars as Radames in the first live electronic webcast of an opera--Aida from Verona (June)

Internet Broadcast

1999

Debuts at Met on opening night in Cavalleria Rusticana; first tenor to do so since Caruso in 1902

Historic

1999

Receives Citizen of Honour by the city of Rosario and title of Professor Honoris Causa from Argentinean University C.A.E.C.E

Award

1999

Records Pagliacci (signature role) with Barbara Frittoli and Simon Keenlyside, conducted by Riccardo Chailly

CD

1999

Wins ECHO Klassik Award as singer of the year for recording of Samson et Dalila (Germany)

Award

2000

Creates Cuibar Productions to manage his career

Event

2000

Headlines in a glorious Otello at The Washington Opera (Feb/Mar)

First Otello in US

2000

Stars as Alfredo in La Traviata a Paris, filmed on location and broadcast live around the world; available on CD (complete and highlights) and DVD

Event /CD

2000

Debuts as Manrico in Il Trovatore at the Teatro Real in Madrid. (Nov)

Role Debut (staged)

2000

Is knighted 'Chevalier de l'Ordre du Cedre' by Lebanese government

Award

2001

Appointed principal guest conductor for the Sinfonia Varsovia (through 2004)

Event

2001

Debuts as Don Carlo in Zurich (Jan)

Role Debut (Staged)

2001

Appears in two highly successful Barbican (London) concerts with Daniela Dessi and the London Symphony Orchestra and releases DVD, A Passion for Verdi (Feb)

DVD

2001

Conducts first concert with Sinfonia Varsovia as principal guest conductor on 25 November

Conductor

2001

Wins Best Artist of the Year, Grup de Liceistes (Barcelona) for single performance of Samson et Dalila at Gran Teatro Liceu

Award

2002

Tapes London production of Il Trovatore in May 2002 for DVD release by BBC (Winter 2002/3)

DVD

2002

Creates own record label, Cuibar Phono Video (CPV)

Event

2002

Records first symphonic CD with Sinfonia Varsovia, Rachmaninov's 2nd (recorded in December 2001 and considered by many to be among the finest recordings ever of this work) and a recital disk, Aurora, (recorded February / March 2002) for release on the Cuibar label.

CD

2002

Wins "Ewa Czeszejko" Sachacka Foundation Award (Poland)

Award

2003

Becomes first tenor in operatic history to conduct an opera (Cavallaria rusticana) on the same evening as he performs in an opera (as Canio in Pagliacci), in Hamburg (Feb)

Event

2003

Debuts as Calaf in Verona; stars in three different operas (Turandot, Carmen, and La Traviata) at the arena (June-July)

Role Debut

2003

Wins Artist of the Year - Catullus Prize (Italy)

Award

2003

Interprets the role of Jean in Massenet's rarely performed opera, Hérodiade, in Vienna

Rarity

2003

Sings in the Opening Ceremony of the Rugby World Cup in Sydney

Event

2004

Conducts first multi-act opera, Verdi's Un ballo in maschera in Piacenza, Italy (Feb)

Conductor

2004

Debuts as Dick Johnson in Puccini's Fanciulla del West in Zurich

Role Debut

2004

Releases Dvořák Centenary Tribute album in early 2004

CD

2004

Performs Carmen in Seoul's Olympic Stadium in front of an audience of tens of thousands

Event

2004

Runs Olympic torch on island of Oinousses, then sings the Olympic anthems and "Nessun dorma" before performing a very special concert in the Oinousses Amphitheatre (15 July)

Event

2004

Sings at the FIFA Centennial World Player Gala in Zurich Opera House

Event

2004

Becomes Citizen of Honor, Veszprém, Hungary

Award

2005

Debuts at the Deutsch Oper (Berlin) as Canio in Leoncavallo's Pagliacci.

Deutsch Oper Debut

2005

Accepts position as Vice President of British Youth Opera, joining a select group of of artists and patrons taking an active role in supporting the young singers of tomorrow

Mentor

2005

Sings at opening ceremony of the World Games in Duisburg, Germany

Event

2005

Stars as Dick Johnson (signature role) in the opera La fanciulla del West at the Royal opera House Covent Garden, London

Performance

2005

Conducts the Toscanini Orchestra in Rachmaninov's Piano Concert no 2 and Second Symphony (Italy)

Conductor

2005

Wins 'Cittá di Piacenza' prize and becomes Citizen of Honor of Piacenza (Italy)

Award

2005

Is awarded 'Citta di Bavena' Prize from the Festival Umberto Giordano (Italy)

Award

2005

Becomes Patron to the New Devon Opera

Mentor

2006

Conducts Madama Butterfly at the Wiener Staatsoper

Conductor

2006

Wins the 'Enric Granados' prize and the 'Insignia d'or dels Amics de L'Ópera de Lerida' (Spain)

Award

2006

Receives 'Giovanni Zanatello' Prize for best artist of 2005 Verona season (Italy)

Award

2007

Performs lead role in Otello at the Gran Liceu (Barcelona); production is recorded for release on DVD

DVD

2007

Premieres La commedia e finita, an innovative combination of narrative, dance, and opera developed and directed by Maestro Cura, in Rijeka

First production

2007

Returns triumphantly to Argentina for Samson et Dalila, the 50th Anniversary of the Monument to the Flag, and a special concert in Rosario

Event

2007

Premiers Sonetos, a series of songs composed by Cura on Pablo Neruda's lyrics, at the "Mozarteum" of Rosario (Argentina)

Composer

2007

Is named Socio Fundador Honorario by Portuguese Association Against Leukemia (Portugal)

Award

2007

Accepts position as visiting professor of voice at Royal Academy of Music (London)

Mentor

2007

Receives "Award for his professional and culture work all over the world"by the Lebanese Society of Rosario

Award

2008

Is awarded the 'Fundación Teatro Colón' award as the best Argentinian opera singer of 2007

Award

2008

Debuts as Rodrigue in Massenet's opera Le Cid at the Zurich Opernhaus

Role Debut

2008

Debuts at the San Diego Opera as Canio in Pagliacci

Theater Debut

2008

Publishes first book of photography, Espontáneas, published by Cuibar / Scheidegger & Spiess. Holds first photographic exhibition at the Tuscan Sun Festival in Cortona (Italy)

Photographer

2008

Serves as both director and set designer for Verdi's Un ballo in maschera at the Köln opera house

Multi-role

2008

Stars as title character in Puccini's rarely produced second opera, Edgar, restored to its original four act structure; performance is broadcast and recorded for release on DVD

Rarity

2009

Is selected by the 'Fundación Konex' as one of the best 100 Argentinian artists of the last 10 years in the category of Male singers (1999 - 2008).

Award

2009

Performs as both Turiddu in Cavalleria rustica and Canio in Pagliacci at the Zurich Opernhaus; performances are recorded for release on DVD

DVD

2009

Is awarded the Career Medal by the 'Fondazione Ugo Becattini' (Emilia Romagna, Italy) as one of the most complete contemporary artists

Award

2009

Conducts the Danubia Orchestra Óbuda (Budapest) in Bach's B Minor Mass

Conductor / Symphonic

2009

Conducts La rondine at Teatro Comunale, Bologna

Conductor / Opera

2009

Holds multi-day master class, then conducts master class concert in Nancy

Mentor

2009

Donates 2000 compact disks to support the work of the NGO Padrinos Asturian, a charity group whose primary purpose is the sponsorship of underprivileged children and their full integration into society. The organization is headquartered in Oviedo with branches in Colombia and the United States

Mentor

2009

Joins the "TCK-TCK-TCK: Time for Climate Justice" campaign, an initiative of the Global Humanitarian Forum

Mentor

2010

Stars in Met production of Stiffelio, the first star-driven staging in the theater since 1993.

Event

2010

Headlines the Budapest Opera Ball

Event

2010

Stars as Rodolpho in Puccini's La Bohčme in Zurich, role debut in fully staged performance

Role Debut

2010

Performs first concert in South Korea at the Aram Concert Hall, Goyang (Seoul)

2010

Designs set, directs production, and stars in Samson et Dalila in Karlsruhe

Multi-role

2010

Receives the prestigious "Österreicher Kammersänger" award by the Wiener Staatsoper on 2 December. The prize, literally meaning "Chamber singer", is an honorific title for distinguished singers which is given in Germany or Austria on the recommendation of relevant national institutions.

Award

2011

Returns to Teatro all Scala for month of Pagliacci

Broadcast

2011

Headlines first Crystal Ball in Bratislava

Event

2011

Stars in South Korea BESETO Opera's first ever production of Samson et Dalila (Seoul)

Theater Debut

2011

Heads cast in Pagliacci in the Revolving Theater at the International Music Festival in Cesky-Krumlov

Event

2011

Leads premiere of Zurich Opera's new production of Otello

Performance

2011

Performs for first time at Royal Danish Opera, starring in Cavalleria rusticana and Pagliacci

Theater Debut

2011

Returns to Teatro alla Scala after 12 years, singing Canio in Leoncavallo's Pagliacci

Performance

2012

Directs, designs sets and costumes, and conducts La Rondine in Nancy

Multi-role

2012

Releases Samson et Dalila, recorded live at Badische Staatstheatre, as DVD under Arthaus label

DVD

2012

Directs and designs staging for critically acclaimed production of Cavalleria rusticana and Pagliacci at Opera Royal de Wallonie

Multi-role

2013

Substitutes for sick tenor in Carmen just 24 hours after landing in NYC for month-long starring role in Otello at the Metropolitan Opera

Event

2013

Performs as Stiffelio for first time in appearance at the Monte Carlo Opera

Theater Debut

2013

Stages, directs, and stars in a critically acclaimed production of Otello at the Colón

Multi-role

2013

Returns for the first time to ancestral homeland in Soria for a concert

Discovery

2013

Returns in triumph to Paris for first performance in decade, performing in concert at Salle Pleyel

Event

2013

Headlines sold-out charity concert in first-time appearance in Palace of Arts, Budapest

Mentor

2014

Stars in the Swedish opera production of Andrea Chénier

Performance

2014

Thrills Berlin audience in a series of "Festival América del Sur" concerts

Legacy

2014

Brings audience to their feet during stellar concert at Théâtre antique d'Orange

Broadcast

2014

Performs in open-air production of Tosca before live audience of 15,000; performance was broadcast

Event

2014

Performs at Bolshoi for first time at Gala in honor of Elena Obratszova

Broadcast

2014

Attends premiere of Stabat Mater, composed by Cura as part of larger oratorio Ecce homo / Behold the man

Composer

2015

Stars in hugely successful cross-over concert with Mahó Andrea in Budapest

Event

2015

Conducts first Mahler work (Mahler 2ş Symphony) in Nowy Sacz, Poland

Event

2015

Brings acclaimed production of Cavalleria rusticana / Pagliacci to Teatro Colón, stars as Canio

Multi-role

2015

Receives "Mención de Honor Senador Domingo Faustino Sarmiento" in tribute to his career inside and outside the country by Argentine National Senate

Award

2015

Conducts free 'appreciation' concert at Buenos Aires' Centro Cultural Kirchner, featuring his co-stars from his Teatro Colón's production of Cav/Pag

Event

2015

Performs signature role in Samson et Dalila to great acclaim at the National Theater in Beijing, China

Theater debut

2015

Creates a uniquely Scandinavian La Bohčme , incorporating historic Swedish artists into a seamless rendition, leading to critical approval: "José Cura is indeed a phenomenon. This Bohčme is grossly entertaining... All in all an utterly satisfying production."

Multi-role`

2016

Wins La Fundació del Bŕsquet Catalŕ recognition for on-going support to the youth of Barcelona

Award

2016

Stars as Otello in Salzburg Easter Festival production, marking the first time appearing at this international known spectacle.

Festival Debut
Without Make-up: The Real José Cura
From Gay.Tv
He has been on the stages of theatres the world over. These days, he also gives himself to conducting. Here's a look at his private side, at his passions and his fears.

His principal character trait?
Obstinacy.
His principal flaw?
The same: being too stubborn.
Sign of the Zodiac?
Sagittarius. Pisces ascendant.
Superstitions?
Absolutely not.
What did he always want to be when he grew up?
An adult. The kind of man we call "serious"; in reality I have remained the perpetual child.
Ever screamed revenge?
Only in operas. In real life, that doesn't lead to anything.
The book that has left a mark on you?
The Mediocre Man. A book by José Ingenieros, an Argentinean philosopher. I reread some chapters, some parts of it often.
What is lacking the most in your life at present?
Certainly the time for everything that I do and would like to do. It seems to me that I never have enough of it.
What importance do you attribute to money?
I believe the right and proper one: I have known how it is to live without and now that, thank God, I'm not wanting, I realize there is a great deal of difference.
What are you worried about?
It bothers me to think of not being present for what's going on in my family, however big or small these things may be: from my son's ballgame to my teenage daughter's first love. In essence, it worries me to be an absentee father.
What kind of authority and power would you like to have? A political role?
Political; absolutely not! I have been offered posts as artistic director and other positions in the music field, but at present, I intend to make more music, to sing and conduct.
Who or what embarrasses you?
More than embarrassed I feel irritated about those who consider my career for the most part tied to being, shall we say… "fairly good-looking". I believe that I have proven myself a serious professional, the 'afterlife', so to speak, of my strengths and weaknesses. My looks already show the marks of time. I'm getting greyer all the time; the process is relentless.
The circumstance that's the most relaxing and calming?
To be at home….I also would like to succeed in staying put at the house for 15 days in a row!
Favorite subject in school?
I must confess that I did not like school much. I used to be an 'anarchist'; I used to escape the rules that school imposes on you. However, I mainly loved subjects that dealt with the humanities.
Favorite city?
I don't have a favorite city. I am a citizen of the world. A true gypsy.
Favorite color?
Red.
The ideal vacation?
To be at home.
Day or night person?
With the type work I do, I find myself living at night to a great extend. But by nature, I am not a night owl.
The film you like best?
I have always liked Spielberg's "Hook" very much and still do. As a father, it has made me think a lot, and I would recommend it to all fathers.
The season of the year?
Spring.
Your relationship to food?
A note of regret. Just now that I have gone on a diet again, it is a, shall we say…delicate subject. It is clear that I have a very good relationship with food.
Favorite dish?
Nothing fancy. Plain pasta but literally smothered in aged Parmesan…you could say that I eat Parmesan with a little pasta for decoration.
Red or white wine?
Red wine for sure. I would say a full-bodied wine like the "Barolo".
And in your dressing room?
I'm Spartan. No particular object. Only a bottle of water and one of tea.
How would you want to die?
If possible of old age, but I would add two options: one-an "heroic" death, battling an illness. The other, let's say, an 'easier' and more painless death: in my sleep.
Your frame of mind at present?
Positive to the max.
Your motto?
Carpe diem—Seize the day and make the most of it.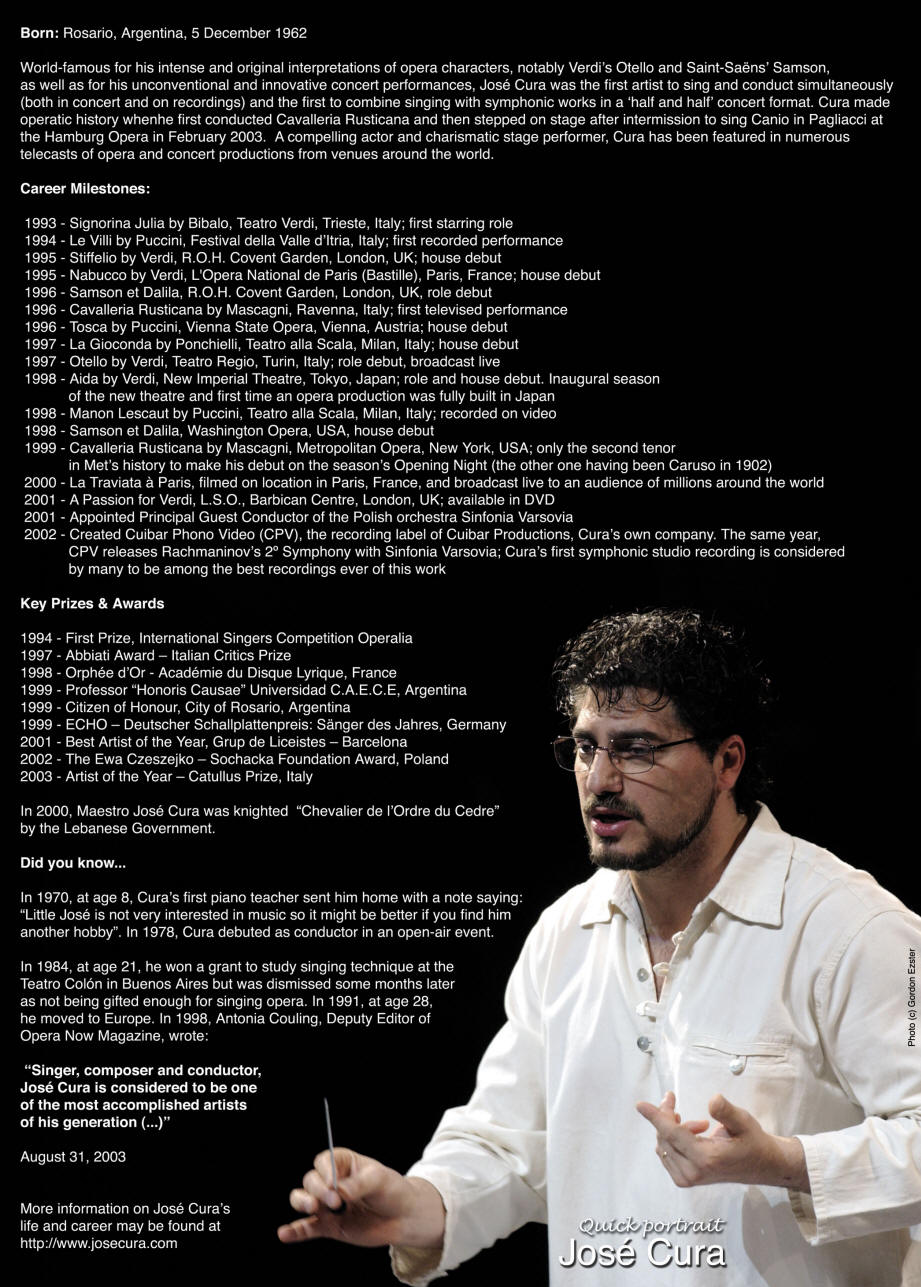 About | Argentina | Awards | Bio | BravoCura Cover Photos | Calendar | Concerts | Discography | Media | News and Updates | Notable Quotables | Opera Work | Photos | Prague Artist in Residency 2015-2018 | Press
Last Updated: Saturday, January 06, 2018 © Copyright: Kira