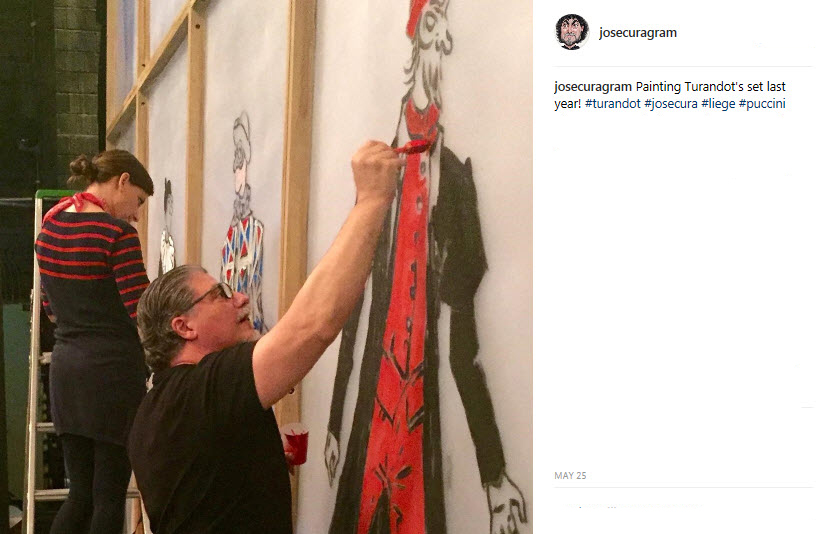 josecuragram Painting Turandot's set last year! #turandot #josecura #liege #puccini
karenupton2258 May I ask you a question, maestro? @josecuragram In your performance of Cavelleria Rusticana in Ravenna in 1996 and then again a few years later, as Turridu finishes: Mama, quel vino e generoso on the final addio, you do not - on either occasion - belt out an endless high C as so many tenors do (one of my all time operatic heroes, Corelli, being particularly guilty). Is this simply because maestro Mascagni did not write it with a high C, thereby leaving the wretched Turridu to leave not with a bang, but with a whimper - having finally realised what a total shit he had been? I definitely know that you are more than capable of doing so. I suppose, really, I just want to know why. Note: at the risk of brown nosing, both performances were extraordinary. You act as well as sing wonderfully.
josecuragram dear, first of all, it is not a high Do but a Lab, an easy note for any tenor, so holding it long is not a technical problem at all but a question of (bad) taste and, moreover, a dramatic question: Turiddu breaks off his mother's arms to go and die. He breaks the note running away, he does not hold it for the tenor to prove whatsoever. It's rightly written like that. Same as at the end of "Un bel dì vedremo", where Butterfly should break her high Sib out of emotions and not hold it forever. But nobody does it like that afraid of being said they are not good singers if they break notes... (sigh). Opera needs courageous interpretations, not capricious stagings, to be modern...
karenupton2258@josecuragram Thank you. I knew it would be as you say. Apart from the very obvious fact that you could hit and hold these notes with ease, the fact you chose not to just reinforces for me my belief that you are a brilliant musician, maestro, but - more importantly - a musician with integrity who respects the composer's work. Quod scripsi scripsi. Kudos.